I had a few words printed in this article in the Stranger about Miles Davis "On the Corner".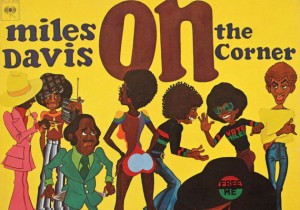 By Dave Segal
One of the greatest albums of all time, Miles Davis's On the Corner was released 40 years ago this month, and it instantly polarized jazz fans and critics. Miles was 46 when he recorded On the Corner with producer Teo Macero and an elite cadre of badasses, including John McLaughlin, Jack DeJohnette, Herbie Hancock, Chick Corea, and Billy Hart. Davis was in a position to coast on his legendary rep, but as was his wont, he preferred change and innovation over comfort. As I wrote in a review of The Complete On the Corner Sessions box set for OC Weekly, "Miles Davis intended [this album] to be his commercial breakthrough. [He] was hoping to capture the imaginations of the young African-Americans who were breaking sweats, busting moves, and tripping out to James Brown, Sly & the Family Stone, and Jimi Hendrix. How odd, then, that On the Corner turned out to be one of the most rhythmically innovative, atmospherically menacing, and uncompromisingly psychedelic works ever to get filed in record-store jazz sections."
To commemorate this landmark fusion album, which still sounds ahead of its time, The Stranger asked several Seattle (and former Seattle) musical luminaries for their thoughts on it. Spoiler alert: They like it—a lot.
Scott Colburn (Jabon, audio engineer/producer at Gravelvoice Studios): Miles Davis was one of the few jazz heavyweights who never stood still. Even though Bitches Brew and On the Corner were panned when they originally came out, it was only because [critics] couldn't comprehend the direction he was going in. On the Corner is one of the best experimental albums of all time. His idea was simple: assemble some of the freshest new jazz players in a room and record everything that happens. It's pure jazz alchemy. When you hear the unedited versions of these jams, you start to fully understand what kind of sonic experiments were taking place.